An induction cooktop is a wise choice that makes your kitchen efficient and unique. But while purchasing an induction cooktop, the first thing that comes into a user mind is what should be the best wattage for an induction cooktop. Obviously, nobody wants to pay a high amount of electricity bill at the end of every month.
Meanwhile, most of the users think that high wattage means high electricity consumption. It seems like we still believe this wrong concept from the old era.
Well, we have prepared this article to clear all your doubts and misconceptions regarding the best wattage for an induction cooktop.
Read below to know more – 
Does high wattage of induction cooktop mean high energy consumption?
No, it is a wrong concept that most people still believe.
The reality is with the higher wattage of Induction, the time required to produce the heat is low. That means total electricity consumption depends on how much electricity is consumed per second and the time taken to consume it.
(Electricity consumption=Electricity consumed per second*Time taken)
So, if you want your induction cooking to be energy efficient, you should start considering the "time taken" factor in energy consumption.
Tips for selecting the best wattage for Induction cooktop
Identify the type of cooking you want on the induction cooktop. If you are purchasing it with the general purpose of cooking food for your family, you should go for the 2000W or higher wattage induction cooktops. But if you want it to cook fries and semi-dry foods occasionally then you should go for an Induction Cooktop with medium wattage such as 1600W or 1800W as this will be more monetarily beneficial and also save more electricity.

Choose an induction cooktop with too many inbuilt wattage options so that you can adjust the wattage according to your cooking type. 

Select an Induction Cooktop with pre-customized cooking options like Roti, Dosa, Stir Fry, Gravy, Slow Cook, Pressure Cook, and Manual selection. It will automatically set the Induction according to the recipe.

The Timer Setting also adds an advantage to the cooking procedure. It is easy to adjust the timer to a specific wattage for a particular recipe. 

It is best to use magnetic stainless steel or Iron cookware while cooking food on an Induction cooktop. You can go for Prestige Omega Deluxe Induction Base Non-Stick Kitchen Set for cooking food on an Induction Cooktop.
Induction cooktop wattage comparison with different ranges
The range of wattage for an induction cooktop varies from brand to brand. Generally, all the brands mention their highest wattage available for an induction cooktop. Suppose you have selected an induction cooktop that has the highest wattage of 2100W. Now. You can adjust the wattage from lowest to highest 2100W according to the cooking requirements.
Keep in mind that the higher the wattage is, the more the options for cooking would be available for you. And you can quickly cook a variety of food. It is best to choose more than 2000 W to cook food in an induction cooktop efficiently.
Now, it must have cleared your confusion that lower wattage does not mean lower electricity bills; instead, it means more electricity bills than the higher wattage range. However, you cannot always set the cooking time to a minimum by heating the food at higher wattage. Mostly cooking time depends upon the type of food you are cooking.
Suppose if you are cooking more boiling items such as rice, Maggi, tea, khichdi, etc., you can use a high wattage range for cooking efficiently. But if you cook semi-dry items such as chicken pakora, poha, fish fry, etc., you cannot set the high wattage or burn out the food.
Best Induction Cooktops with different range of Wattage
1.

Best 2100 Watt Induction Cooktop – Philips Viva Collection HD4938/01 2100-Watt Induction Cooktop with Sensor Touch (Black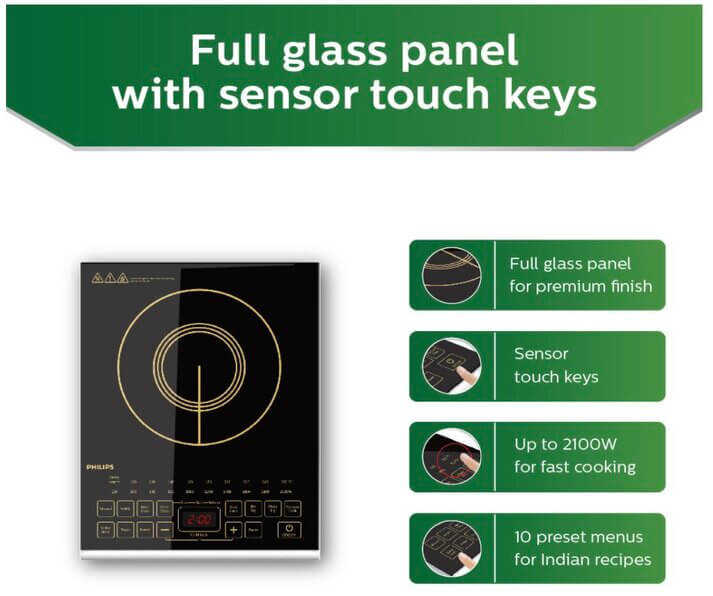 This Philips induction cooktop is one of the best 2100 Watts induction cooktops you can see in the kitchen. The sensor touch keys of this cooktop add a touch of elegance with excellent controlling aspects at the same time. This Induction has a 24-hour pre-set timer feature for delayed cooking.
It also has a high-quality glass panel and an auto-off feature, ensuring a high degree of safety.
Pros :
Highly energy-efficient cooking

Too many inbuilt wattage options up to 2100 W

It has ten pre-set timer settings. 

Easy to use

Eco-friendly
Cons: 
You need unique cookware to cook food on this induction cooktop
2.

Best 2000 Watt Induction Cooktop – Prestige PIC 3.1 V3 2000-Watt Induction Cooktop with Touch Panel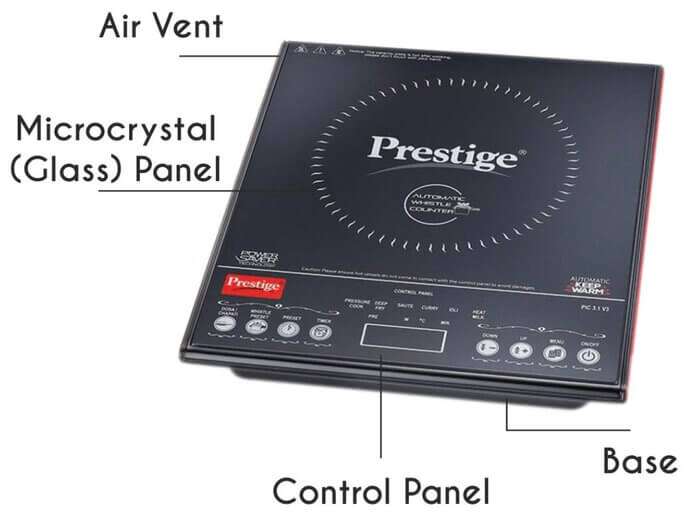 Prestige is one of the largest selling Indian kitchen appliances brands. It is also known for being India's first intelligent induction cooktop brand.
We love this induction cooktop because of its innovative features such as the automatic whistle, anti-magnetic wall, soft-touch buttons, automatic keep-warm mode, and many more. Its automatic keep-warm mode saves a lot of your time and power.
At the same time, its dual heat sensor prevents your induction cooktop from overheating. It comes with a fully digital control panel, making the power and temperature easily adjustable depending on the food, ensuring efficient cooking.
Pros :
It has pre-customized cooking options

It is India's first intelligent induction cooktop

Energy efficient 

It has too many sensors to improve efficiency
Cons:
Not so budget-friendly 

Its digital controls are not so user friendly
3.

Best 1800 Watt Induction Cooktop – Pigeon by Stovekraft Cruise 1800-Watt Induction Cooktop
The pigeon induction cooktop is one of the safest induction cooktops with too many exciting features. 
It has a 7-segments LED display, which presents a natural selection of menus and enables hassle-free cooking. Further, it has pre-set menus, which enables them to cook Indian recipes with ease. The dual heat sensor technology of this cooktop makes it more energy-efficient.
Pros:
User friendly

The high degree of efficiency

Quickens cooking procedure thereby saving time and energy

Environment-friendly
Cons:
Consumes comparatively more electricity

You cannot use all types of cookwares on this induction cooktop.
4.

Best 1600 Watt Induction Cooktop- Usha Cook Joy (3616) 1600-Watt Induction Cooktop
Usha is another reputed kitchen appliances brand in India. This 1600-watt induction cooktop is one of the best choices for students, bachelors, and small families. It saves time and fuel while being portable. It has exciting features like auto-power saving mode that prevents overheating. The cooktop's pan sensor automatically turns off the Induction if it does not sense cookware on its surface.
This cooktop has a metal code varistor that protects the appliance from voltage fluctuations of up to 1500 volts. The anti-skid feet feature prevents the Induction from falling or skidding while you fry your favorite snacks.
Pros:
It has power-saving features

Its Pan sensor feature is excellent

It has pre-customized menus and a manual cooking option

Attractive design 

It supports all kinds of utensils that you have in your kitchen, even your cast iron pots
Cons:
Sometimes the fan of Induction makes noise.
It is clear that an Induction Cooktop with a higher wattage is best for energy optimization. So you should go for an induction cooktop with more than 2000 watt range. Till now, it is the most suited wattage range for induction cooktops, especially for Indian kitchens.
Also, a higher wattage induction cooktop with too many inbuilt wattage options makes Induction cooking easier. So make sure to compare the best wattage for induction cooktop before you choose to buy the best induction cooktop for your kitchen.