An exhaust fan has become a need of any Indian kitchen for proper ventilation. These fans are useful in expelling all kinds of awful odors, smoke fumes from the kitchen, and making the kitchen environment more healthy & breathable. It removes the heat from the kitchen and encourages continuous air circulation of fresh air inside the kitchen. For this, you need a good quality kitchen exhaust fan, which will keep your kitchen environment cool and also prevents foreign entities from entering into it. Here is a buying guide that will help you to choose some of the best kitchen exhaust fans for Indian cooking.
How to Choose the best Exhaust Fans for Indian cooking?
Most people think that all kitchen exhaust fans are of the same kind and work similarly. But that's not true. Exhaust fans are area-specific, and that's why you cannot install any type of exhaust fan in any part of your home.
Below, we have mentioned some factors that you should consider before purchasing an exhaust fan for a kitchen : 
Kitchen Exhaust Fan Size
A regular 12 inches or 304.8 mm sized exhaust fans are suitable for expelling smoke and fumes from a small to medium-sized kitchen. However, larger-sized kitchen exhaust fans are mostly required for restaurants, industries, and factories' kitchens. These large-sized exhaust fans are not wall-mounted but are ceiling mounted with entirely different rotation patterns. 
Blade Material
An exhaust fan comes with two types of blade material- Metal & Plastic. For kitchen exhaust fans, the plastic blade material is better than metal ones. The metal blades get rusted easily and also make noise. On the other hand, plastic blades have a long-lasting, effective life and keep your surroundings noise-free. Compared to metal blades, plastic blades are much more comfortable to clean without getting tarnished easily.
Energy Consumption
A high-speed kitchen exhaust fan consumes high energy to run faster and hence causes more electricity bills. That's why you should go with regular exhaust fans for normal household cooking purposes. However, if you want to purchase a kitchen exhaust fan for commercial purposes, you should choose a high-speed fan.
Sound Level
The sound level of exhaust fans depends upon the motor and fan spinner. Generally, a high-speed metal exhaust fan comes with a sound level of 74.3 dB. However, regular exhaust fans have a low sound level of approximately 60dB. If you are purchasing large exhaust fans for industrial usage or large kitchens in restaurants, then it's okay if it causes a certain level of noise. However, if you want it for a residential kitchen, then it must have a noiseless fan.
External Guard
Now, most modern kitchen exhaust fans come with an external guard or metal mesh's safety feature. These external guards help prevent accidental contact of lizards or any other insect with the sharp moving blades of an exhaust fan. So, you should go for a kitchen exhaust fan, which has an automatic shutter or guard.
Cleaning
You should purchase an exhaust fan that is easy to clean. Too many exhaust fans are accessible in the market that works great yet are too hard to clean. So, search for an exhaust fan that works effectively but also not so difficult to clean.
kitchen exhaust fan price list
All of the best kitchen exhaust fans for Indian cooking come within the price range of Rs 400 to 2000. You don't need to spend more money than this price range.
How to Clean Kitchen Exhaust Fan?
You can clean a kitchen exhaust fan in too many different ways. Different exhaust fans require different structures to be cleaned. However, the process of cleaning remains the same. Here we have the most simple method of cleaning up a kitchen exhaust fan :
Unplug the wire of an exhaust fan connected with the power source

Now you need to detach the exhaust fan from its fixed place.

Unscrew all the parts of exhaust from its sheath and mesh to its motor
Now clean all the parts one by one using the following process:
Mesh:
Separate the mesh from the exhaust fan. 

Pour hot boiled water through its filter.

Now, prepare a cleaning mixture using 3-4 liters of hot water and a ½ cup of ammonia in it. Make sure to wear a face mask in the whole clean process.

Soak the mesh in this mixture for about 15-20 min, remove to scrub it properly.

Dip it again for another round in hot water. 

Now wash it with cold water and let it dry for some time.
Blades:
You can use a sodium phosphate cleaning solution to clean the metal blades of an exhaust fan. Don't forget to wear a mask while using this solution. 

Otherwise, you can also take soap and hot water solution with ½ a cup of ammonia and two tablespoons of baking powder into it. Do not keep the water is too hot.

Now soak the blades in the mixture and take it out after a while.

Wear rubber gloves and scrub grease, lint, and dust off the blades.

Dip it again into the mixture. 

Once the dirt is gone, soak it again in cold water.

Take blades out of the cold water and let it dry.
Motor:
Never use water or anything wet to clean the motor. Instead, use a dry cloth to dust off all the dirt from the motor surface. Make sure you are not heating the motor in the process.
Points to remember while cleaning the different parts of an exhaust fan :
Cleaning up the different parts of an exhaust fan requires excessive scrubbing to remove grease, dirt, and lint. 

If the standard solutions do not remove all dirt and grease, you can try using more concentrated caustic chemicals. Make sure you wear a mask & other required protective gear during the whole cleaning process.

For faster drying, use paper or dry and cotton towels.

Do not use water to clean the motor of an exhaust fan. 

Once all the parts are dry and clean, fix them up again and reinstall the fan to its proper place. Before you install it, make sure you have dusted its resting place with a dry towel.
Best Kitchen Exhaust Fans for Indian Cooking
Key Features
No. of Blades:

5 blades

Body material:

High-quality plastic

Power consumption:

35 watt

Voltage:

220V to 240V

Blade size:

200 mm 

Product dimension:

29.5 x 29.5 x 16.5 Cm

Design: Modern & stylish
Pros :
It is one of the quietest & smooth exhaust fans. 

It comes with a two-year manufacturer warranty.

Apart from kitchens, this exhaust fan is best for AC cabins, offices & conference rooms. 

Budget-friendly & worth the price. 

Suitable to small to medium-sized kitchen
Cons:
The speed of the fan is not so fast. 

It is not suitable for commercial & large-sized kitchens.
Key Features
Body Material:

Metallic 

No. of Blades:

3

Power consumption:

40 watt

Product dimension:

29 x 29 x 20 Cm

External Guard:

29 Spokes

Noise level:

40 – 45 dB
Pros:
Havells is a well known & trusted brand in India. 

Long-lasting 

High-quality fan

Consumes less electricity
Cons:
A bit noisy

The suction force is not that good.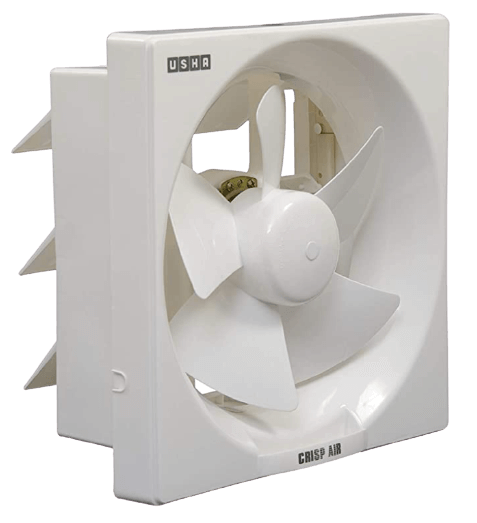 Key Features
No. of Blades:

5

Product dimension:

12.1 x 9 x 6.5 Cm

Power consumption:

40 watts

Voltage:

230 V

Sweep size:

product is available in 150mm, 200mm, 250mm sweep size
Pros:
The exhaust fan comes with an automatic shutter.

Noiseless

Light-weighted

Sleek & stylish

Rustproof 
Cons:
Comes with only one year warranty

Runs at a lower RMP rate
Key Features
Body Material: Plastic
Product dimension: 19.4 x 19.5 x 10.3 Cm
Power consumption: 230 wattage
Motor speed: 1800 RPM
Pros:
Its body is made of high-quality plastic.

This exhaust fan is easy to clean.

Simple to install

It is appropriate to mount on glass windows.

High durability

Budget-friendly

Light-weighted
Cons:
Key features
Body material:

Plastic

No. of Blades:

5

Product dimension:

7.5 x 7.5 x 36 Cm

Sweep area:

250 mm

Inbuilt safety grill

Air delivery:

460 cu m/min

Power consumption:

50 watt

Fan speed:

2370 RPM
Pros:
Rust Proof body

Light-weighted 

Easy to clean

The product warranty is for 2 years.
Cons:
Not so budget-friendly

A bit noisy
Kitchen Exhaust Fans – Frequently Asked Questions
Which are the best kitchen exhaust fan brands in India?
Usha, Crompton, and Havells are the most well-known brands of kitchen exhaust fans in India. There are too many other companies that produce superior, better quality, and smart technology exhaust fans in India. So, it is always better to do proper research and comparison before purchasing an exhaust fan. 
How to install an exhaust fan in the kitchen?
An exhaust fan comes with a frame, motor, belts, and blades. To install an exhaust fan, you will require pliers, tester, spanner, and screwdriver tools. Now follow the following procedure : 
Firstly, fix the belts to the frame on all four sides. In the middle of these four blades, set the exhaust fan's motor with nuts and bolts. 

Now take pliers and check that the bolts are tight and properly secured. After that, attach the exhaust fan blades with the motor. Now connect the capacitor to the motor terminal for electrical supply.

Once again, check that all the parts are properly attached. Then, fix the exhaust fan to a suitable place using a drilling machine.
What is the best place to install an exhaust fan?
The best place to install an exhaust fan is on the top section of your kitchen wall, just where you place the stove so that the fumes and heat produced inside the kitchen will directly move out through the exhaust fan and keep the kitchen properly ventilated.
You may also like:
Just like too many other appliances, an exhaust fan is another essential appliance for any Indian kitchen. That's why you shouldn't buy it in a hurry and compare at least 2 to 3 different brands of kitchen exhaust fans and then decide to purchase the best exhaust fan for the kitchen. Further, this guide will surely help you to choose the best exhaust fan for your kitchen.
As per our research & testing, we found this Luminous Vento Deluxe 9 inches or 200 mm Blade Size Exhaust fan worth to recommend. It is one of the best available kitchen exhaust fans for Indian cooking with all the excellent features you may need in an exhaust fan.