If you love cake baking and looking for the best hand blenders for making cakes, then you are probably at the right place. No doubt, there are too many brands with the best service and can give you the best hand blender at economical prices. But, how to select one best hand blender that fits in with all your requirements for cake making. Well, don't worry, we have come up with some best hand blenders for cakes in India. This guide will help you select the best hand blender that would help you make those exotic cakes. Let's get started-
Factors to be considered before purchasing the best hand blender for cakes
Blades Material:

Make sure the blender that you choose has stainless steel blade material. It is the most convenient and long-lasting blade material that works well.

Motor:

The hand blender for cakes should have a powerful motor range between 250 to 330 Watt. The operating voltage of the blender for cakes should range between 220- 230 V. This range of motors will give you efficient and excellent performance.

Speed Controls:

You may rarely come across an electric hand blender with one or two-speed controls. Now, the electric hand blenders available both online and offline are mostly with advanced technology. Hence, it comes with at least 5 to 6 variable speed controls.

Multipurpose:

Most hand blenders you find in the market are multipurpose. You can use those hand blenders for multiple purposes such as blending, whisking, beating, mixing, etc. Hence electric hand blenders mostly come with multiple attachments to perform different functions.

Warranty:

There should be a minimum one-year product warranty. Primarily, the well-known brands provide a warranty of up to 2 years. There are some local brands also which either do not provide a warranty at all and if provides the warranty period will only be of 1 to 2 months.

Budget:

The budget of a good quality hand blender may vary from Rs. 1500 to 2000. It may be more than that if the brand is well known and provides advanced features. However, you can find a lower budget electric blender also which starts from Rs. 450- 500. But there is no reliability of these blenders with local brands. If you find them suitable and fit all your requirements, you can go for them as well.

User Friendly:

The hand blender you choose must be easy to use and convenient for beginners also. The grip of the blender should be good.
7 Best Hand Blender for cakes in India (2021)
Inalsa hand blender, hand mixer, easy mix beater, 250-watt motor, seven-speed variable controls, one year warranty
Key Features
The powerful motor of 250 watt

Performs all blending, kneading, and whisking tasks efficiently

The hand blender has seven different speed controls

Different attachments for different cooking tasks- mix, whisk, blend, etc.

Input supply- 220 to 230 v, AC

Handy & convenient

One year product warranty
Ibell iblwhites03new electric hand mixer, blender, beater and cream maker, 7-speed control variables, 2 dough hooks, and 2 beaters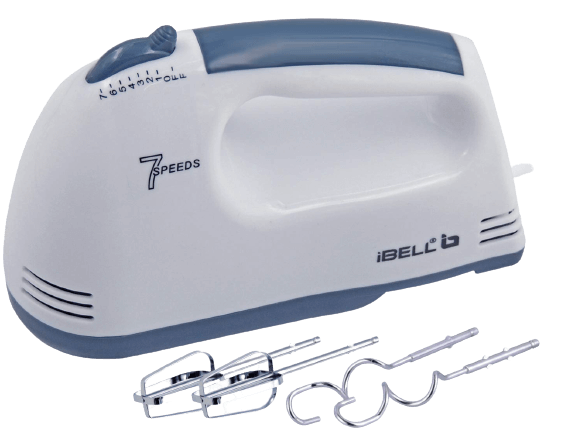 Key Features
The motor of 120 watt

Multi-tasking blender

Seven different speed controls

Operating voltage- 220- 240 V

One year's product warranty

Two pairs- stainless steel beaters and dough hooks
Borosil smart mix hand mixer, electric hand beater, mixing cake batters, atta, frostings, 4 stainless steel attachments ( 2 beaters and 2 dough attachments), 300 Watt, Black
Key Features
The powerful motor of 330 Watt

Operating voltage- 230 V

Easy to use & convenient

Five-speed options and turbo boost
Frequently Asked Questions
Which is the best electric hand blender for cake making at home?
These are some hand blenders that are best for cake making at home-
Philips HL 1655/00 hand blender, 250 Watt, White
Inalsa hand blender, hand mixer, easy mix beater, 250-watt motor, seven-speed variable controls, 1-year warranty
How to clean an electric hand blender efficiently?
Following are the tips for cleaning an electric hand blender efficiently-
Detach the hand blender's cord from the power supply

One by one, detach all the accessories and parts and keep them in hot water for a few minutes

Clean them with a soft sponge or cloth using a liquid solution

If you want to use, you can use vinegar for cleaning parts

The blending machine (upper parts) should be cleansed with a dry or not-so-wet cloth

Handle the sharp objects with care
Conclusion
I hope this buying guide on the best hand blender for cakes in India helped you select a hand blender for preparing cakes at home. We have reviewed all the top-hand blenders for cake available on Amazon India. All of these hand blenders belong to well-known and trustable brands. However, if you still like a hand blender belonging to some other brand, you can go for that as well. But before making a final decision, compare the hand blenders and then make one final decision that fits into your requirements.